Regular price
$53.00 USD
Sale price
$53.00 USD
Unit price
per
Sale
Sold out
5 in stock
Order in
H, M, Seconds
(before 1pm AEST) for same day despatch
View full details
Are you looking to buy Nucleus Paragon Espresso in Australia?
Effortless extract chilling for espressos. Say goodbye to makeshift setups, Nucleus brings the Paragon Chilling Rock to your espresso routine with this clever, lightweight design. Just place the Paragon Espresso on top of your cup and pull your shot as your normally would. Easy! This set includes 4 Paragon Chilling Rocks and 2 Paragon Espresso Mounts.
Enhanced Flavours

Developed in collaboration with Zurich University of Applied Science (ZHAW), the Paragon Chilling Rock quickly cools down the extracted coffee as it touches the rock, locking in more flavours that would otherwise have been lost without the chilling technique.
In ZHAW's research on volatile aroma compounds, they discovered that instantaneous cooling of the extraction would trap these compounds and result in more aromatic and flavour-rich coffees.
Optimal Cooling
Unlike ordinary whiskey rocks, the Paragon Chilling Rock is specifically designed for use with coffee. They are made with titanium-coated stainless steel making them incredibly durable. Inside, these rocks are filled with a high-density liquid to keep them at the optimal temperature needed for effective extract chilling. They're also designed to rapidly and evenly cool the coffee extraction that touches them.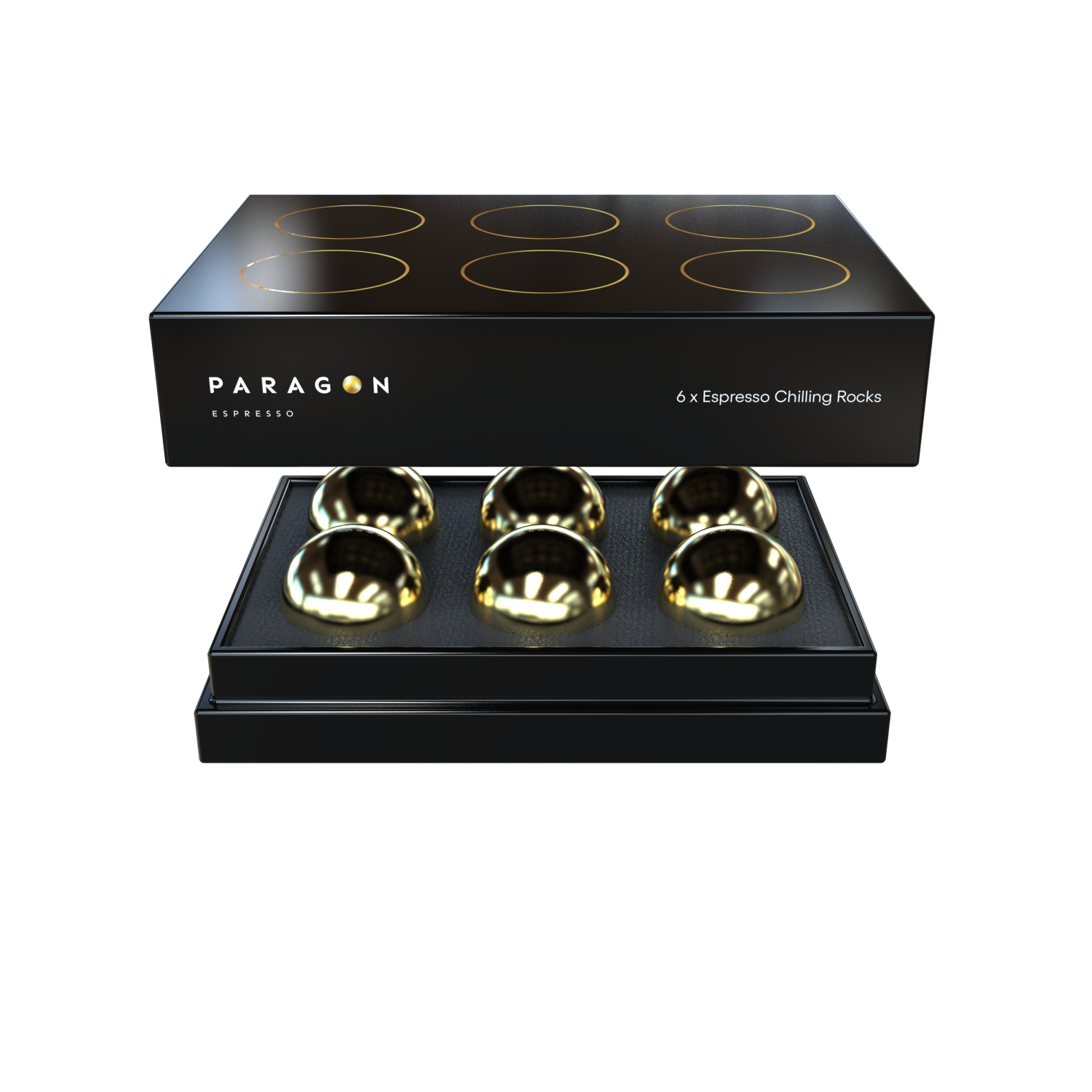 Paragon Espresso Mount
No more balancing acts and makeshift stands! The Paragon Espresso Mount serves as a stable platform for the Paragon Chilling Rock and can be easily set on top of any cup. This custom mount is height-adjustable to accommodate different cups and coffee machines and is designed with anti-slip grips.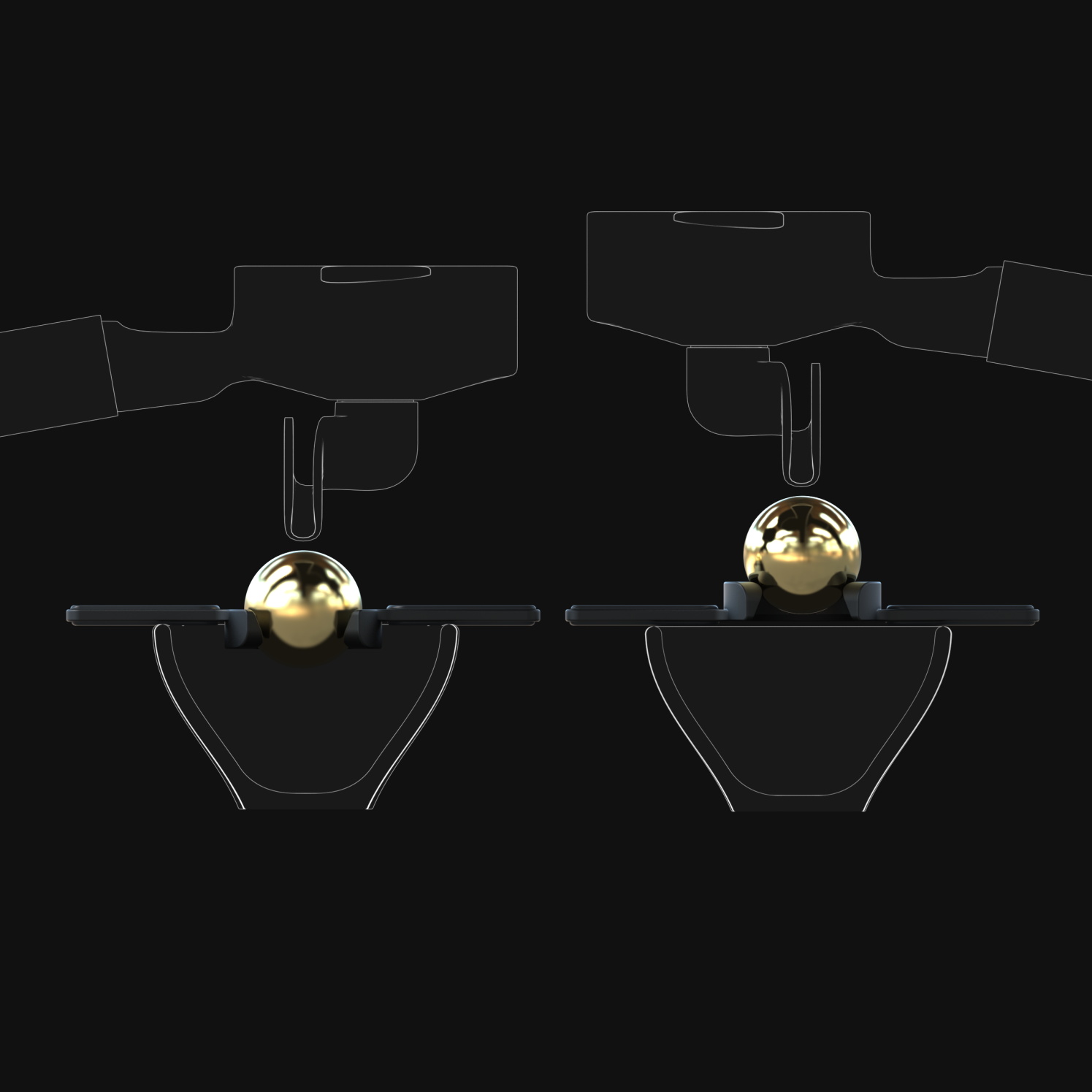 Features
Designed for extract chilling - The Paragon Chilling Rock is designed to quickly and evenly cool the extractions that pass over it.
Richer flavours and aromas - Extract chilling retains more of the volatile aroma compounds responsible for the delicious sensory experience that comes with coffee, which is usually lost in more traditional brewing techniques.

Durable - Made with titanium-coated steel for durability.

Rapid cooling - The rocks are filled with high-density gel that keeps them at the perfect temperature for rapid cooling of the extraction.

Easy to use - The kit comes with the Paragon Espresso Mount which serves as a base for the chilling rock and can be set atop your favourite espresso cup.

Specifications
Dimensions:

Espresso mount - W 34mm x L 120mm
Chilling rock - D 30mm

Materials: 

Espresso Mount - Electrophoresis powder-coated Aluminium
Mount Grips - Silicone
Chilling Rock - SUS304 Stainless Steel with Titanium Coating and liquid core of glycerin and water.

Waterproof: Yes
How to use
Place the Paragon Espresso Mount on top of your cup.
Place a Paragon Chilling Rock on the mount.
Pull your espresso shot as you normally would.
The espresso will be rapidly cooled as it hits the chilling rock, locking in the flavours.
Enjoy your delicious, enhanced espresso!
Includes
4 x Paragon Chilling Rocks
2 x Paragon Espresso Mount
W/H: V-01-D-04
SKU: PG-ESPRESSO
Package Weight: 290g
Why Buy From Central Coast Coffee?
We aren't your average online coffee store.
CCC started in 2011 and is family operated with local staff in Somersby
History of reputable store and 5 star reviews
We are transparent with our stock levels, if in stock every order goes out the door before 1:00PM AEDT
Our staff drink coffee every day & use these products regularly. Confused or not sure what to buy? Shoot us a message on live chat.
Discounted Shipping on orders over $120
Large Facebook Community for like-minded individuals.
Active on social media - Tag us or DM us!
Visit us in-store in NSW - We are located 1 hour north of Sydney in Somersby
GST Registered. All prices include GST when shopping in Australia